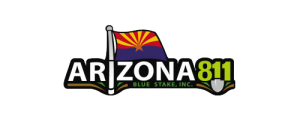 APRIL IS NATIONAL SAFE DIGGING MONTH
Know what's below before you dig into your next project
TEMPE, ARIZ. – Planning to dig for any reason? In recognition of April being National Safe Digging Month, Arizona 811 reminds you always to have utilities marked before work begins to avoid life-threating injuries and prevent damage to the services we all rely on every day.
Arizona law requires anyone who digs for any reason to contact Arizona 811 at least two full working days in advance so underground utilities can be located and marked. It's easy and it's free: Call the simple three-digit number, 811, between 6 a.m. and 5 p.m. Monday-Friday, or go to www.Arizona811.com and use E-Stake – Arizona 811's free online tool available 24/7/365.
Striking utilities is dangerous and costly. Serious and even fatal injuries can be the result of hitting an electric or gas line. If you accidentally strike any utility line, you can face civil penalties; be held responsible for repairs; and pay reimbursements to other customers for their losses incurred during a service interruption. Other risks include temporarily shutting down electricity, gas, water, sewer and communications services, which also can be catastrophic.
"We frequently remind people that cutting through a cable line might not seem very serious at first, but if that line carries telecommunications data, then it could wipe out 911 services to an entire community or render your cell phone and other mobile devices useless," said Arizona 811 Executive Director Sandra Holmes. "When you stop and think about all of the utilities we rely on daily, you can appreciate why preventing damage is so incredibly important."
Arizona 811 works all year long to educate the general public and professional excavators about the importance of having utilities marked before digging. With April designated as National Safe Digging Month, several special events are taking place:
At the request of Arizona 811, Arizona Governor Doug Ducey has declared April 2015 "Arizona Safe Digging Month."
Arizona 811 invites everyone to play "Can You Dig It?" at www.SafeDigging.me. The free online game educates players about always digging safely; this year, more than $6,000 in prizes are available!
Arizona 811 is again sponsoring and participating in the City of Tempe Arbor Day 5K benefiting Trees for Tempe, Friday April 24, 2015, at Kiwanis Park. The event includes an expo and tree-planting ceremony.
To learn more about Arizona 811 and the importance of safe digging, go to www.Arizona811.com
About Arizona 811
Arizona 811 (formerly Arizona Blue Stake, Inc.) was established in 1974 as the non-profit communication center to facilitate pre-excavation/digging notification services and provide stakeholder education to prevent injuries and damage to underground utilities in accordance with statutory requirements. Arizona 811 services are free and available statewide. Check out our NEW web site:  www.Arizona811.com