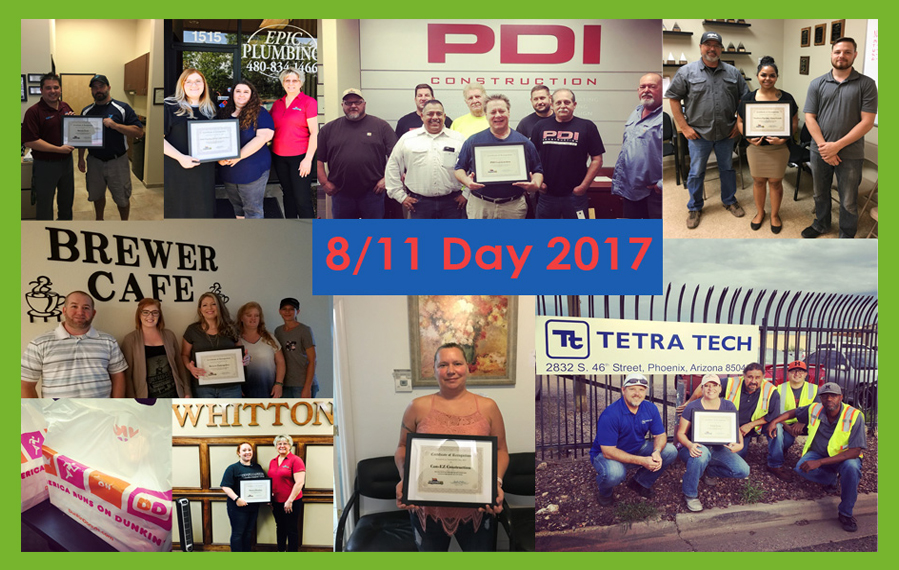 On August 11, National 811 Day, we recognized the top 15 professional contractors who used our E-Stake system with the highest quality and who demonstrated safe digging practices by not having any reported damages of underground utilities within the past year.
Each of these exemplary excavators, were presented with a certificate of recognition to thank the employees for their hard work and focus on safe digging practices. For the top 5 on this list, we additionally recognized them with some treats for all their employees.
In alphabetical order, following is a list of the 15 professional contractors who received certificates of recognition:
Arizona Pipeline – Tucson
Brewer Enterprises – Phoenix
Can-EZ Construction – Phoenix
Epic Plumbing – Gilbert
Maven Tech – Surprise
Northern Pipeline – Casa Grande
Northern Pipeline – Tucson
NPL Construction – Prescott Valley
Osmose Utilities Services, Inc. – Atlanta, GA
PDI Construction – Phoenix
Shasta Pools – Phoenix
Team Fishel – Tucson
Tetra Tech – Phoenix
Whitton Plumbing – Mesa
Congratulations and thank you for your diligence and hard work!
Know what's below, Call 811 or click Arizona811.com before you dig.