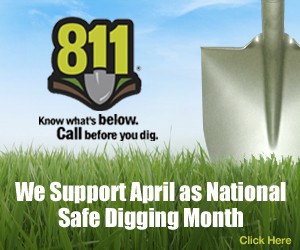 April is National Safe Digging Month, So we're sharing a safe-digging tip with you every day from April 1 to April 30.
Safe Digging Month Tip: Digging for any reason? You must contact Arizona 811 at least two full working days in advance, excluding weekends and state holidays.
We'll start with the easiest one to remember: Always call 811 before you dig for any reason or create a ticket online with  E-Stake.
Safe Digging Month Tip: Use white paint to mark out your dig site. Create a center line, radius or mark out all four boundaries if you can.
Safe Digging Month Tip: If you see a circle with a slash through it at your dig site, it means utility locators could not access it to mark their lines and pipes. Do not dig! Call 811 back and be sure to provide physical access to the dig site.
Safe Digging Month Tip: Electricity travels at 186,000 miles per second – if you accidentally hit an electric line with a shovel or equipment you could be seriously injured or killed. Know where electric lines are buried and always use caution working around them.
Safe Digging Month Tip: Arizona law defines excavation as any operation in which earth, rock or other materials in the ground is moved, removed or otherwise displaced by means or use of any tools, equipment or explosives and includes, without limitation, grading, trenching, digging, ditching, drilling, auguring, boring, tunneling, scraping, cable or pipe plowing and driving.
Safe Digging Month Tip: If your utility-location marks are damaged or destroyed, call 811 to have them refreshed. Marks must be visible and valid for the duration of your project.
Safe Digging Month Tip: Your 811 ticket is valid 15 working days excluding weekends and holidays. Update your ticket at least two working days before it expires. Hint: if your ticket was created on a Monday it will expire three Mondays later.
Safe Digging Month Tip: Know the code! The uniform color code for utility markings is your guide to knowing what types of utilities are represented by the various colors.
Safe Digging Month Tip: You can create a ticket 24/7/365 online using  E-Stake. This allows you to submit your request on your schedule, even if the Arizona 811 call center is closed.
Safe Digging Month Tip: Dogs or other pets in your yard? Remove and safely contain them until all utilities are marked. Utility locators won't enter a yard with pets in it, no matter how friendly they look.
Safe Digging Month Tip: Never assume there won't be buried utilities at your dig site because it's too rural or too residential. Many pipes, cables and lines were installed before development occurred and/or in very remote locations.
Safe Digging Month Tip: There are more than 2.5 million miles of underground pipeline in the U.S. One-third of major pipeline incidents are caused by accidental strikes during excavation. Know what's below: Always contact 811 before digging!
Safe Digging Month Tip: Smell rotten eggs? It could be a leaking gas pipe. Run upwind and call 911 from a safe location. Learn more about what to do if you suspect a gas leak.
Safe Digging Month Tip: Calling 811 is free and easy – and it's the law in all 50 states. In Arizona, violating this law can result in fines of up to $5,000.
Safe Digging Month Tip: Never assume there's only one utility line where you're digging. There can be multiple utilities buried at your dig site, including utilities from which you don't even receive services.
Safe Digging Month Tip: AZ law requires you to hand dig only within two feet of a marked utility, and support and protect it. Even when hand-digging, use extreme caution!
Safe Digging Month Tip: You might own private lines, such as a gas line to a BBQ or a water line that services a pool. Because utility providers mark only what they own, you're wise to hire a private locator. Learn more about private locating services here.
Safe Digging Month Tip: When a utility location request precedes any digging project, damage is avoided 99% of the time, according to the Common Ground Alliance DIRT Report.
Safe Digging Month Tip: If two working days pass and you have not received responses from 100% of the utility providers listed on your ticket DO NOT DIG! Contact 811 for help.
Safe Digging Month Tip: Excavators with plans to dig at an apartment or mobile home community are required to notify the landlord by certified mail. The landlord has 10 working days to respond.
Safe Digging Month Tip: If a utility provider does not have any facilities buried at your dig site, they'll notify you of "No Conflict" with marks at the site or by calling or emailing you.
Safe Digging Month Tip: Are you a contractor working at one residential address per ticket? Great news! The Single Address Ticket feature on E-Stake  is now available for you with no advance training required.
Safe Digging Month Tip: Say YES to "offset markings" when you're asked if you want them at your dig site. They're painted onto a permanent surface to reinforce marks on a non-permanent surface (such as grass or dirt) that could be damaged or destroyed.
Safe Digging Month Tip: Depth is not guaranteed! Utility lines can be shallower or deeper than you suspect. Always be careful and prudent.
Safe Digging Month Tip: Never cut or move a utility line that's in the way of your project. You put yourself and others in grave danger and you could face costly fines from the Arizona Corporation Commission.
Safe Digging Month Tip: Professional excavators and homeowners alike: If you accidentally hit a buried utility, call 911 if necessary. You must also call whoever owns/operates the utility you struck. Never try to repair it yourself.
Safe Digging Month Tip: At least one person should remain outside of a trench at all times to warn of changing soil conditions or any other discerned hazard.
Safe Digging Month Tip: If your job site is hard to find, very large or complex, consider meeting with utility locators in advance. Call 811 to request a "Meet Ticket." Locators aren't required to mark at the meeting, so contact Arizona 811 to request a "Routine Ticket" afterwards.
Safe Digging Month Tip: Knowing the location of underground facilities helps project designers plan more efficiently and can prevent dangerous and costly utility strikes when work begins. Designers can create a "Design Request" with E-Stake.