KNOW WHAT'S BELOW AS YOU PLAN YOUR SPECIAL EVENT
Determining if You Need an 811 Ticket:
Are you planning or involved with an outdoor special event such as a golf tournament, run/walk, wedding, party, festival or fair? If you
will be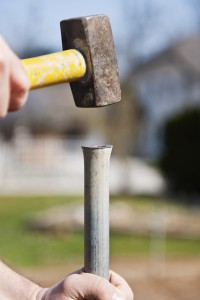 using hand tools or mechanized equipment to dig or install anything on public or private property, getting an 811 ticket to have underground utilities marked first is required. Plan your event safely and in compliance with Arizona law by having underground facilities located and marked in advance, and then work with caution around paint, flags or other marks you see on the ground.
Examples of event-related work that would require an 811 ticket:
Installing stakes to secure outdoor tents, "bounce houses" or other large inflatable items or canopies
Using a shovel, post-hole digger/auger or other tools to install temporary signage, fencing or barricades
Using tools to pound or drive posts into the ground
Any other activity defined as "excavation" by Arizona law
Gas pipelines, electric or telecommunications cables, water or sewer lines can be buried just about anywhere in Arizona: beneath golf courses, parks, fields, resort and country club grounds, vacant lots – in rural or urban areas – as well as commercial and residential areas. Arizona law does not guarantee utilities will be located at a specific depth, meaning underground utilities might be just a few inches or several feet below the surface.  Accidentally striking a buried utility can result in serious injury, service outages and costly repairs for which you could be liable.
Creating an 811 Ticket is Easy and Free: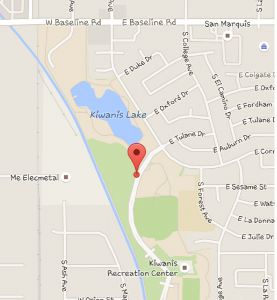 Call the simple three-digit number, 8-1-1, from anywhere in Arizona at least two full working days before work begins. If you're calling from outside of Arizona to create an 811 ticket for an Arizona event, call 1-800-STAKE-IT (1-800-782-5348). The Arizona 811 Call Center is open from 6 a.m. to 5 p.m. (MST) Monday-Friday, excluding state holidays.
For events at a single residential address, you can use the Single Address Ticket tool to create and submit your ticket online any time – even when the Call Center is closed.
An address where the event will take place – including a description of where on the property your work will occur.
Information such as an intersection, landmark and directions to get to the location of your work area if the site is
difficult to describe.
A job site description, such as which side(s) of the lot you will be working on (north, south, east, west, front yard, backyard, side lot) and the dimensions of the area in which you'll be working.
Physical access to your work site:

Unlock gates or provide gate codes
Remove and safely contain dogs or other pets. Even if a pet looks friendly, locators will not enter the yard

The name and telephone number of a contact person if the utility locators
have questions
Your email address so you can quickly receive responses from locators indicating the status of their markings (such as "No Conflict," "Marked Completely" or
"No Access")
Contractor/Subcontractor information: If you're hiring a contractor or someone else to do work for you or to assist you, provide the company's or individual's name, a contact person for them and their telephone number. Anyone doing work must be listed on your ticket so they are valid to dig or have their own 811 ticket for the job.
To Help Locators Better Identify Your Site:
Consider marking out your dig/installation site(s) with WHITE paint or WHITE flags. Do not use any color other than WHITE to mark out a dig site. You can mark all four boundaries, a point you will be referencing as the center of a radius or as the centerline of a path.  Be sure if you indicate your dig site will be marked out in white that you have marked it out, because utility locators will be looking for those white lines or flags at your event site.
After Your Ticket is Submitted:
Allow two full working days for locators to mark the location of their buried facilities at your event site or inform
you of "No Conflict." A "No Conflict" response means the utility owner/operator does not have facilities buried at
the site you described.
Verify that every utility owner/operator listed on your 811 ticket responded. If you are missing any marks or responses, do not begin working. Instead, contact Arizona 811 to ensure that 100% of the necessary responses have been received.
Utilities will be marked using colors in accordance with the APWA Uniform Color Code for Utility Markings.
Avoid digging, installing or excavating within two feet (24 inches) of any paint or flags on the ground. This 24-inch area is known as the Tolerance Zone and is in addition to the width of the facility, if indicated, from each side of the marked facility. If you cannot avoid working in the Tolerance Zone, use extreme caution, and note that Arizona law requires that you only use hand tools and you must support and protect any
exposed facilities.
If you have questions about any of the marks you see, our staff is always available during working hours to
provide assistance!
For general questions, please email Customer.Support@arizona811.com
FREQUENTLY ASKED QUESTIONS
Click on the question to view the corresponding answer.

Communication / Cable TV